IMPCO Beam Model T60 60HP Reducer, Evaporator
SKU:

167043

UPC:

168.69

Weight:

1.00 KGS

Shipping:

Calculated at Checkout
Description
IMPCO Forklift LPG Reducer, Evaporator Beam Model T60
RATED 60 H.P.
W.P. 250 P.S.I.
GAS CHAMBER 0.09 LBS WATER
BEAM PRODUCTS
CERRITOS, CALIF. 90703
DESCRIPTION
The T60 is a two stage regulator/vaporizer for LPG applications up to 60hp (45Kw). Various models feature
built-in vacuum lockoffs, idle adjustment, primers, various heating methods, and several mounting options.
Newer models (post 2010 production) include an improved primary and secondary lever and seat design, and
a standard freeze plug and idle screw. The idle screw has improved sensitivity and stability and is relocated to
the cover. An idle screw cap and tamper resistant screws satisfy regulatory tamper resistance requirements.
Optional dual mounting tabs are available and all mounting features and ports will remain the same.
SPECIFICATIONS
Fuel Type .......................................... LPG Liquid/Vapor or Natural Gas
Inlet Pressure
Maximum ............................... 250 psi (17.23 Bar)
Minimum Inlet Pressure ......... 30 psi (207 kPa)
Outlet Pressure ................................. -0.5" w.c. (-0.13 kPa)
HP/kW ............................................... 60hp (45kW) with LPG liquid, 40hp (30kW) LPG Vapor
30hp (22kW) for Natural Gas
Operating Temperature Range ......... -40°F to +250°F (-40°C to +121°C)
Fuel Filtration .................................... 40 micron
Heating Chamber Source .................. Required for liquid LPG
Mounting Position .............................. Vertical (outlet down) recommended. Horizontal position
can be used when fuel contamination can be controlled
with HD-5 or HD-10 specified LPG fuel.
Diaphragm ......................................... Hydrin
Applications ....................................... Stationary, mobile, industrial and automotive
Certification ....................................... UL (AU1502), Inquire for specific ECE approval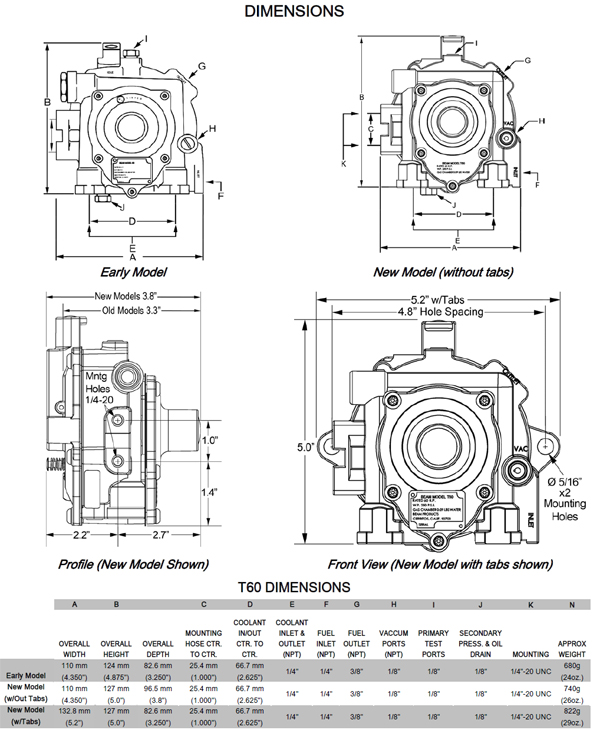 COMPONENTS
Item # P/N DESCRIPTION
P3-16699-001 PLUG, 1/8 Socket Head Steel (NEW)
P3-13 PLUG, 1/8-27 NPT* (1) (EARLY)
2 NSS CASTING, REGULATOR BODY
3 NSS DIAPHRAGM ASSEMBLY* (1), (2)
4 NSS COVER, PRIMARY REGULATOR
5 NSS SPRING, PRIMARY* (1)
6 NSS SCREW, RETAINER, ADJUSTABLE SPRING
7 P3-17956-8 PLUG, EXPANSION* (1), (2)
8 NSS SPRING, PRIMARY LEVER* (1)
9 NSS LEVER ASSY, PRIMARY* (1), (2)
SCREW, FIL HD, 10-32 UNF-2A x .31 L (EARLY)
SCREW, M5 x 0.8 7.9 FIL HD, TORX (NEW)
11 NSS BRIDGE, PRIMARY
12 NSS PIN, PRIMARY PIVOT* (1)
SCREW, 10-32 x.62 TORX* (1)
SCREW, TORX TAMP RES M5 X16MM (NEW)
14 NSS ORIFICE, PRIMARY REGULATOR (EARLY)
15 NSS DIAPHRAGM ASSEMBLY, VAC LOCK* (1), (2)
16 NSS SPRING, VAC LOCK* (1)
17 NSS DIAPHRAGM, SECONDARY* (1), (2)
AC1-51985-001 COVER ASSY (NEW)
AC1-51985-001A COVER ASSY W/PRIMER (NEW)
SCREW, PAN HD 10-32 x .38* (1)
SCREW, TORX TAMP RES M5 X16MM (NEW)
20 60-16 RING, VAC. LOCK
21 NSS SPRING, SECONDARY LEVER* (1)
22 NSS PIN, SECONDARY PIVOT* (1)
NSS LEVER ASSY, SECONDARY* (1), (2) (NEW)
60-19B LEVER ASSY, SECONDARY (EARLY)
24 NSS ORIFICE, SECONDARY REGULATOR (EARLY)
S1-17367 SCREW, ADJUSTMENT* (l)
NSS SCREW, ADJUSTMENT (NEW)
26 NSS LABEL
27 NSS DELETED
400-25 PLUG, RELIEF* (1), (2) (EARLY)
P3-50929-001 PLUG, FREEZE .50 DIS. X .38 (NEW)
29 NSS GASKET, PLUG* (1), (2) (EARLY)
30 NSS PLUG, WATER CORE (EARLY)
SCREW, PAN HD, 10-32 UNF-2A X .25 L* (1)
SCREW, TORX TAMP RES M5 X16MM (NEW)
32 P3-17956-1 PLUG, EXPANSION* (1), (2)
33 NSS LABEL, WARNING* (1), (2)
34 NSS GASKET, DIAPHRAGM* (1), (2)
35 NSS LABEL, IDENT-SILVER
36 W1-5 WASHER, SPLIT LOCK* (1) (EARLY)
37 NSS SCREW, FIL HD 1/4-28 UNF-2A* (1) (EARLY)
38 NSS WASHER, COPPER-SPECIAL