AC STAG 4CYL W02 BFC Big Flow Injector Rail
SKU:

120155

Weight:

0.80 KGS

Shipping:

Calculated at Checkout
Description
AC STAG 4CYL W02 BFC Injector Rail
High quality LPG / CNG 4 cylinder injector rail from AC, recommended for direct injection conversion. The design allows to attach latest MAP sensor (PS04) directly into the rail. BFC version for increased flow and stronger engines.
Technical specification:
Gas flow through section at 1.2 bar [l/min]
150
Max. section performance at 1.2 bar pressure [kW/hps]
38 / 51
Working temperature [˚C]
-20 do +120
Maximum working pressure [kPa]
400
Opening time / closing time [ms]
2,0/ 1,0
Coil resistance
1,9Ω
Suggested nozzle size
Ø 1,5; Ø 1,8; Ø 2,0; Ø 2,2; Ø 2,4; Ø 2,6
(can be drilled independently up to Ø 2.8 max.)
Gas inlet – pipe stub [mm]
Ø 12
Gas outlet – pipe stub [mm]
Ø 6
Overall dimensions [mm]
125 x 60 x 44
Service life [km]
- in urban cycle
- in extra urban cycle

100 000
200 000

Weight [g]
410

Standards and approvals:
STAG AC W02 injector has been approved under E8 approval No. E8 67R-01 7064, 110R-00 7065 and meets the requirements of UNECE Regulations.
AC W02 ensures the following:
very good and stable parameters of injection: opening time ~2.0 ms, closing time ~1.0 ms,
fast and easy installation;
modern and fine-tuned construction to ensure excellent performance;
long service life thanks to the high quality of selected materials and innovative design
Advantages of W02 injectors:
plastic body, reduced weight and improved resistance to the negative effects of gas,
easier installation due to reduced dimensions and weight,
compatibility with the previous version of W01, as well as competitive products,
designed for LPG and CNG injection systems in all engines with various power ratings, including turbocharged ones.
innovative design solutions and improved materials ensuring excellent operating performance and body strength,
test versions of the injector as 3-, 2- and 1-secton units installed directly at the intake manifold, with the optional installation of PS-04 sensor on one of the injectors,
switchable plug and feed connection (feeding on any side) and installation of PS-04 sensor (on any side) that can be turned by 360° even after it is installed on the injector,
service life reaching 100 km in urban driving or 200 km in highway driving.

Compared to the previous version of AC W01 injector, AC W02 has been redesigned to ensure the best injection times in any conditions by the use of specially selected materials, as well as a light and simple construction which allows easier installation. AC W02 has been designed so that it can be easily used to replace W01 in the existing systems. Additionally, the system of connecting the components brings greater configuration The structure also offers the installation of the integrated gas temperature and pressure sensor PS-04 with low inertia of the response to gas temperature changes on any side and with 360˚ turning functionality even when installed on the injector.
Construction.
W02 responds quickly to even minimum and transient load changes due to the excellent opening and closing characteristics. The minimum number of components and a plastic body make it light and simple.
Configuration options: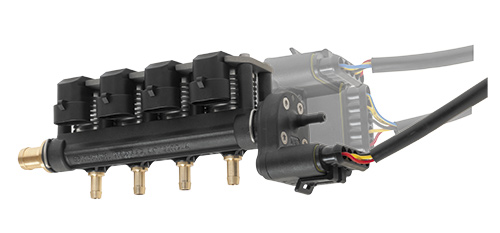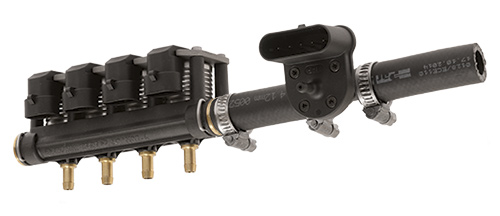 1 Review
Best lpg system shop ever.
Used them for years and never let me down. Will recommend 100%